Indian Cumin Seeds and Powder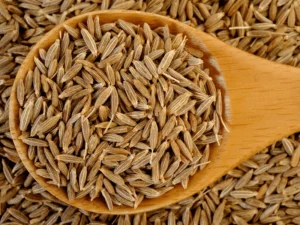 Cumin is a member of Parsley family , it is a spice made from dried seed of plant Cuminum cyminum.
It has a brownish-yellow colour of most common variety available but there are some other variety like black cumin, green cumin, and white cumin.
It is annual growing plant that native to Southwestern Asia but India is the world largest producer of the cumin with 70% of total cumin production of the world.
It is popular for its nutty and earthy flavour and It is using as whole seed in Indian dishes and ground cumin as an ingredient in Mexican and Middle Eastern dishes.
Botanical name :           Cuminum cyminum
Harvesting season :    February to march
Quality :                          Europe Quality (99.5% & 99% purity), Singapore Quality (99.5%, 99%, 98% & 97% purity), and Grinding Grade Quality (90 to 95% purity)
Specification : Moisture 9% max,Extraneious matter 1.2% max, Total
ash 8% max
Packing size : 1kg , 2 kg , 25 kg or as per customer requirement
20 feet container capacity : 13 MT
40 feet container capacity :25 MT
Origin :- India
Genivo Global is a leading Indian Exporter of Cumin powder and seeds from India.
We also exporting all type of dry red chillis , Fennel seeds to all over the world,  All our products are free from artificial colour and preservatives and we do lab test of spices like Sudan, Aflatoxin as per global standards that also meet national and SGS standards.